~ First Break ~
Roopa's first break as a playback singer came with the Malayalam movie Madambi, directed by Shri. B.Unnikrishnan; when Music Director Shri. M.Jayachandran chose her to sing 'Ende Sharike' which won her critical acclaim. Roopa moved to Chennai after getting married and continued to work as a playback singer in the Tamil and Telugu Music Industries. It is probably her profound understanding of the grammar of music that makes her a favourite for Music Directors.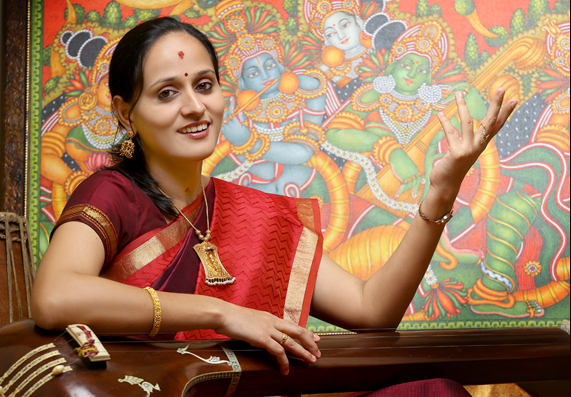 Apart from being one of the most preferred playback singers of recent time, she is also one of the very few lady violinists from Kerala who plays violin for the Re-Recordings in Malayalam/Tamil Movie industry. She also has cherished moments of playing violin for a song directed by the 'Mellisai Mannar', late Shri. M.S.Vishawanathan. She was also the featured singer for the legendary late Kalamandalam HyderAli's Dance Drama – Salabhanjika.
She features in the International Music Album, Experience the feel of India along with Naresh Iyer. Roopa Also holds the credit of having accompanied Padmabhooshan Dr. K.J Yesudas for his concert in connection to his 60th Birthday celebrations.
Roopa's musical brilliance and ability to connect with her audience through her music has made her one of the most sought after singer and violinist. She has a bouquet of international tours up her sleeve to keep her on her toes while she is not recording. She has accompanied big names like Shri Dakshinamoothi, S.P.Balasubramanium, Shri Vidhyadharan, K.S Chitra, Srinivas, Sujatha Mohan, M.Jayachandran, Alphons Joseph, Unnimenon, Vijay Prakash, G Venugopal, Stephen Devassy and many more.
Her Violin concerts range from Carnatic Kutcheris to Jugalbandis and Fusion Music. Roopa has released her first album titled 'Beyond Time' – A violin medley of two compositions by M. Jayachandran. As she dwells deeper into the realms of music, she create a unique signature there, and meditates on how it can surpass the test time...